Orlando Intimate Wedding Locations
---
FEATURED INTIMATE PACKAGE
Disney's Characters in Flight
Characters in Flight is an experience that is unlike anything of which you can dream. Imagine you and your guests, up to 27, boarding one of the largest helium balloons in the world to soar into the heavens for your wedding ceremony. Read More
---
The House of Blues
Located in Downtown Disney, offering couples a Southern flair. From the voodoo arch to the back porch, this Southern style venue is home to great food and fantastic entertainment. We can even add a touch of the Cajun flair with a Blues inspired custom ceremony. Read More
Paradise Cove
Do you want a piece of the beach right in the center of Central Florida? Then Paradise Cove is the place for you! With towering cypress trees, Key West style architecture, and a beautiful sand beach right on Lake Bryan it is stunning. Read More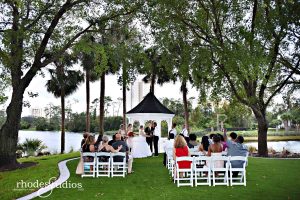 20seven at the Buena Vista Palace Wedding
Imagine your ceremony 27 stories above the ground with views of the Walt Disney World Resorts, Sea World, and Universal Studios. Located just across the street from the shops at Disney Springs (Downtown Disney) the Buena Vista Palace is a luxurious resort in the heart of the attractions and 20seven it's crown jewel of culinary masterpieces. Read More>
Kraft Azalea Park
Located in Winter Park is a hidden gem nestled in one of Central Florida's most exclusive neighborhoods. With the impressive Greek colonnade under a canopy of cypress trees, you feel like you have just discovered ruins of a lost civilization. Read More
Orange County History Center
How about a wedding in a 1927 Courtroom? Take a stroll through downtown to the Orange County History Center and step back in time to a early 20th century courthouse.

The Howey Mansion
Tucked into the hill country of Central Florida, the Howey Mansion is a sight to behold. Imagine stepping through the doors of this 1925 Mediterranean Revival mansion to envision when Citrus was king and the Howey's 3000 acres of orange trees made this 15 acre retreat their slice of heaven on earth.
Elopement Package
Just the two of you? No problem! We put together this wonderful elopement package for couples just like you. We come to you or recommend a location.